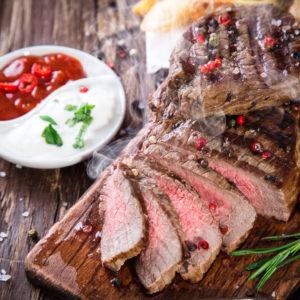 You don't have money for fancy gifts, but you still want to make Valentine's Day special for your significant other. You're not alone – this dilemma has plagued lovers for centuries. Fortunately, you have plenty of affordable options. The best gifts are those that take some thought, and especially time.
That being said, what better way to say "I love you" than with a specially planned, home cooked meal? Check out these 3 romantic recipes that are formal but simple enough that even non-cooks can prepare them successfully and impress their date!
1. Filet Mignon
Filet mignon comes from the French phrase meaning "dainty fillet." What sends a better message than a meal from the Language of Love? This classic way to prepare steak isn't as difficult to create in your own kitchen as the fancy title implies. With choice meat taken from the end of the tenderloin, this juicy recipe will definitely impress your date.
How to Prepare Filet Mignon
Take 2 filet mignon steaks, about 4 oz. each, and sprinkle with salt and freshly ground pepper to taste. Heat a skillet, preferable cast iron if you have one, and heat to medium-high. You can coat the pan with 2 Tablespoons of olive oil if you wish.
Place the steaks in the pan and brown for 1 minute on each side. Don't worry if there's a lot of sizzling. Turn down the heat to medium-low and add ¼ cup balsamic vinegar and ¼ cup dry red wine to the skillet. Let it continue to heat through for 4 minutes on each side, occasionally spooning the sauce onto the meat.
Remove steaks from skillet, place on two warmed plates, and garnish with the glaze. Some complimentary side dishes are garlic roasted broccoli, glazed carrots, or rosemary roasted potatoes.
2. Fresh Haddock Fillet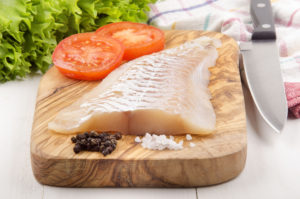 A fresh haddock dinner offers simplicity with a touch of class. If you're pinched for time, but you still want to do something special for your Valentine, this recipe is for you. Fish generally cooks quickly, so you won't spend a ton of time in the kitchen – perfect for an after-work home cooked meal the two of you will remember forever.
How to Prepare Fresh Haddock Fillet
Heat 2 Tablespoons of olive oil in a skillet at medium heat. Saute 1 minced onion and 2 cloves (about 2 teaspoons) of garlic. Gently stir every now and then until onions are transparent and soft. Stir in a 14.5 oz. can of diced tomatoes (or dice your own, about 5 peeled tomatoes), ½ cup black olives (pitted and sliced), 1 Tablespoon chopped fresh parsley, and ½ dry white wine. Let this mixture simmer for 5 minutes while the flavors blend together.
Gently place the fresh haddock fillets in the sauce and simmer until completely cooked, about 5 minutes or until the fish turns white. Some excellent sides include baked asparagus, caesar salad, or steamed carrots and broccoli.
We're confident that your special someone will want a second helping of these delectable home-cooked options. Order your choice cut of meat today or take a look at our convenient Package Deals!